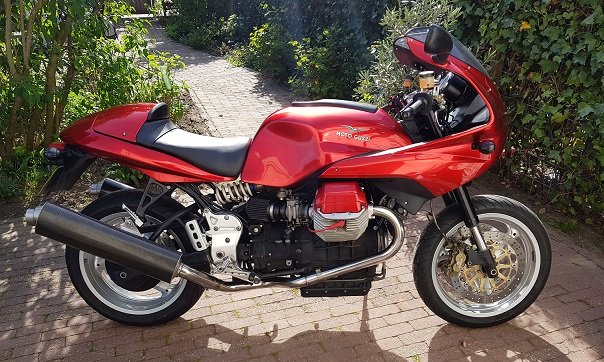 Posts

18

Joined

Last visited
BramF's Achievements

Guzzisti (2/5)
Correct, there is a fuel sensor on to one side of the tank towards the seat area, the other side contains the fuel petcock (at least on my V11 Lemans '02). Because of the way the fuel tank hangs on the frame there are essentially two compartments on either side of the frame. Moving the bike side to side will cause some of the fuel to move over to the other compartment.

I'll be happy to take one aswell, so that's 4 in total now

Just finished the installation of the Hyperpro, it fits perfectly fine. Just have to make sure the adjuster knob is pointed as far upward as possible.

Thanks for all the replies! In order to find out for sure and provide a bit of additional knowledge to the forum I decided to bite the bullet and order the Hyperpro damper. Should be here in a few days and I will report back to you with my findings

Hi all, Whilst performing some maintenance on the V11 LeMans I noticed the Bitubo steering damper weeping oil. As I'm overhauling the suspension (front shocks -> Andreani Misano Evo, rear shock -> Hyperpro) I figured I might as well find a good replacement for the steering damper. After browsing the forum and searching all over the internet I've not found an alternative to the less than ideal Bitubo steering damper. The Shindy 17-001 seems to be unavailable in Europe and the guys at Hyperpro can't confirm that their steering damper will fit as they only tested it on a V11 Sport. Have any of you found a good replacement that is still available?

Hi, Does anyone know of a front brake rebuild kit or what kinds of supplies I need to get in order to do a full service on the front brakes that is available in the EU? Turns out none of my local Moto Guzzi suppliers can help me as Brembo is not offering any rebuild kits. As far as I can tell by the maintenance records mine have never been rebuild and one of the pistons keeps getting stuck causing my front brakes to judder. Whilst doing some googling I've only been able to find this kit : https://www.ebay.com/itm/153586237870?hash=item23c27401ae:g:yJMAAOSwS6ddQEb7 In my mind it seams fairly expensive for just a few plastic rubbers and crush washers. Hope you all can help me. Kind regards

Oil pressure and neutral light all word like they should. Usually the low fuel light would come on at 250km. I have gotten to this milage a few times recently but haven't dared to ride much further without fueling up, what should be a 'normal' range for the fuel light to turn on?

So i checked the sensor wiring and it seem to be connected, also hooked up the multimeter which gave me a measurement of 1,600 ohm. Guess I'll have to keep looking/troubleshooting...😥

Thank you all for the good suggestions Will investigate the fuel sensor connection this weekend and report back to you all.

Is there any new info on a replacement for the fuel level switch? After taking my tank apart in order to get it painted it seems as the switch has given up. I've tried testing the fuel light by powering it directly and that lights it up nicely so I'm suspecting the fuel level switch of causing the fuel light to no longer work.

It is true you are required to have a hi viz jacket with you in case of an emergency, you don't have to wear it whilst riding. The rules with regard to the reflective sticker only applies to helmets being sold in France, if you bring one from outside of the country it's no problem. Some other rules to keep in mind: - Riders and passengers are required to wear gloves (with a CE certification) - You need to have a breathalyzer with you - Your navigation isn't allowed to have an option that gives a speed camera warning

Had the same issue where the bike would lose power when turning the bars ('Stuur' for us dutchies ). In my case it was caused by a lose wire inside of the ignition switch similar to what Kiwi_roy discribes in his topic You could also check the bullet connectors near the front left of the frame that run to the clutch switch, as mentioned by Chuck. --EDIT-- Just found this older topic discussing how to check the bullet connectors, it could help you diagnose if the connectors are causing your issue

Might be a relay thats stuck on, letting through electricity.