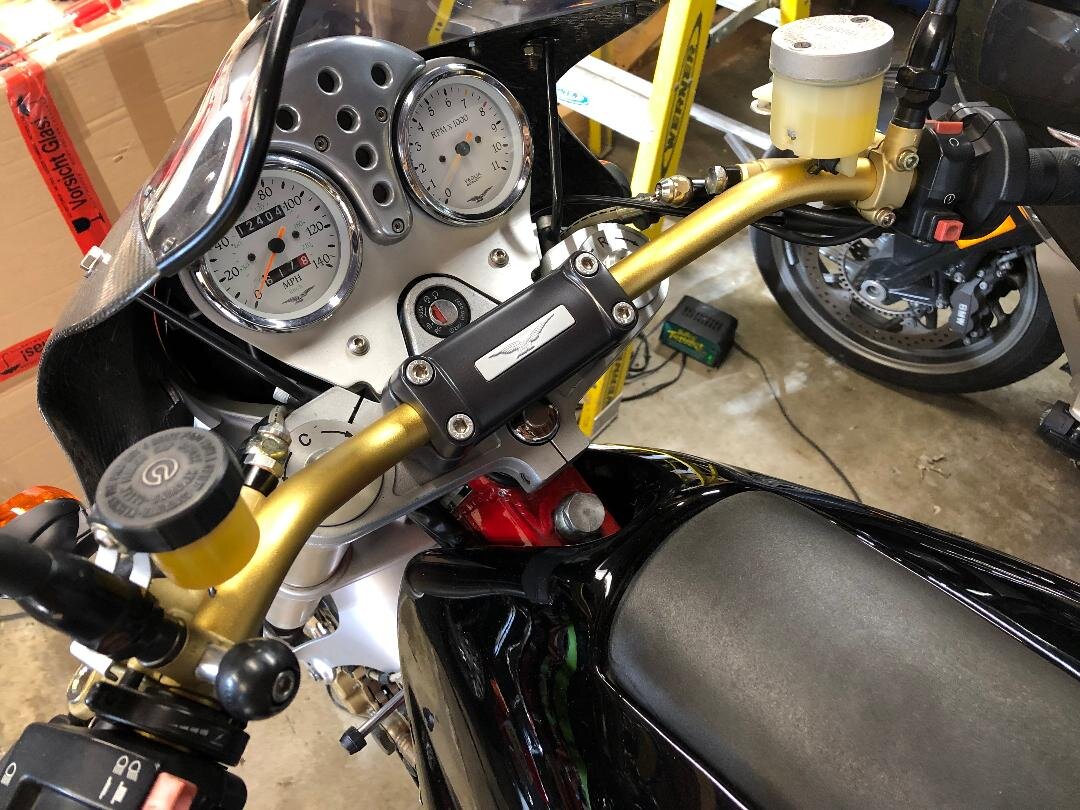 Profiles
Forums
Calendar
Gallery
Member Map
Everything posted by deadpen69
@FreyZI Good Evening, Please remove my name from the list. I'm no longer interested. Thanks

That's what I call fast! arrived safe & sound today. Thanks again, can't wait to check it out.

pm sent regarding shift extender, Thanks

MG Cycle has them: 02517700 - $18.58 - Aluminum Eagle emblem, alternator cover, various uses GU02517700 [02517700] : MG Cycle, Moto Guzzi Parts and Accessories available online at MGCycle.com

Thanks very much for the update.

It's not my bike but I think this exhaust is about as cool as any I've seen on a V-11

I don't know if this is matte or what? More of a satin and certainly not gloss, but it was made by Guzzi so if they match your old pillion cover/booty hump one could assume the weave, color and sheen would be similar. Assuming never got anyone in trouble, right? Eager to see what he comes up with. Thanks for doing the footwork. Much appreciated

Good evening, If I'm understanding you correctly, they would come out of the mold high gloss and a clear matte, semi- gloss or whatever would be applied by the end user? If we could come in $220 or better and it pretty closely matches my screen. You guys can count me in for one. I'd be super interested to see a sample of what the CF surface will look like.

You are entirely welcome. .

MG Cycle- Part #: 02117500. This is the throttle cable for a V10 Centauro. It's 5 inches longer otherwise identical. I also bought a couple 1" hydraulic extensions (SKU:27819) from Helibars.com to help reduce strain on my brake and clutch lines.

I looked at the two different subframes and I see what you're saying docc. I think I'd choose whichever option that didn't require me drilling the case! twice

My 2001 has the boss. Seems to me Tinus89 had the right idea. Rather than fit a whole new swingarm.

I would think any decent metal fab guy could make quick work of the bracket. Especially if he had the bell housing bracket to work to. I wouldn't want to be drilling holes in the spine. This is the best look I could get at the 4 bolt holes. This is from the left side facing forward

My tag is marked 6-2000 and my frame is equipped with the tab. I guess we've already figured out the early 2000's was not a good time for Moto Guzzi! What a bummer. @laurent I would be happy to try and pull some good measurements for you as I have an unmolested tab with nothing mounted to it presently. Let me know.

It's funny you say that because after Don educated me a little about the part and the recall he said, "We don't sell too many of these!" I had to chuckle. I guess V-11's aren't exactly where the money is these days. You could have got a case of beer or two. Don said there's no instructions included but advised me to have patience when negotiating the throttle bodies but beyond that I'm not sure how this thing goes. Is this self-explanatory? Does anyone have a picture or two they wouldn't mind sharing? Not trying to Hi-jack your post Laurent, Sorry about your greenie. If not for this thread, I wouldn't have known to look into mine while I had the tank off so thanks and good luck with your machine.

I spoke with Don this afternoon. Terrific guy, My red brace kit should be on its way from OKC tomorrow. $50 usd shipped is a bargain! While I didn't get out the dye I took off the airbox and I could find no evidence of cracking in any of the problem areas. Thanks

Many thanks. My bike is at 12,000 miles. I haven't inspected the case yet but if there's something I can do preemptively I'll give it a shot. Best Wishes

Are those transmission braces available for purchase anywhere Scud? I looked around here a little and couldn't find any info.

I suppose red Ferrari's have run their course as well Phil? I was raised properly so all I will say is that's a beautiful and formidable machine you have there, there's only one thing I might change. Just curious is your ST2 yellow too?

Thats the one! It looks better in your pic. The half fairing is actually really cool, but I still prefer red.

If memory serves me it was a 98 or 99 with like 5000 miles and the guy wanted $3800. It sat on craigslist for a month in the middle of summer. I also love the late80's Gsx-R bikes with the big dual headlights. If the guy would have been selling one of these I might never have stumbled on to my v-11. I'm glad I got the Guzzi but this is one sexy bike.

I almost bought a beautiful low mileage Ducati 900 SS desmo before I saw my V-11. It only had the 1/2 fairing which I could have dealt with, but I couldn't come to terms with the yellow paint. I don't know how much people are actually getting for the v-11 variants I've seen listed but the asking prices seem to have gone up some since I've been paying attention. When I start to add up how much it has cost me to un-customize my V-11 to my satisfaction in addition to regular maintenance and upkeep, the prospect of a profit at the end is highly unlikely. I better keep my day job.

One day I'm going to treat myself to one of those belly pans for my bike.