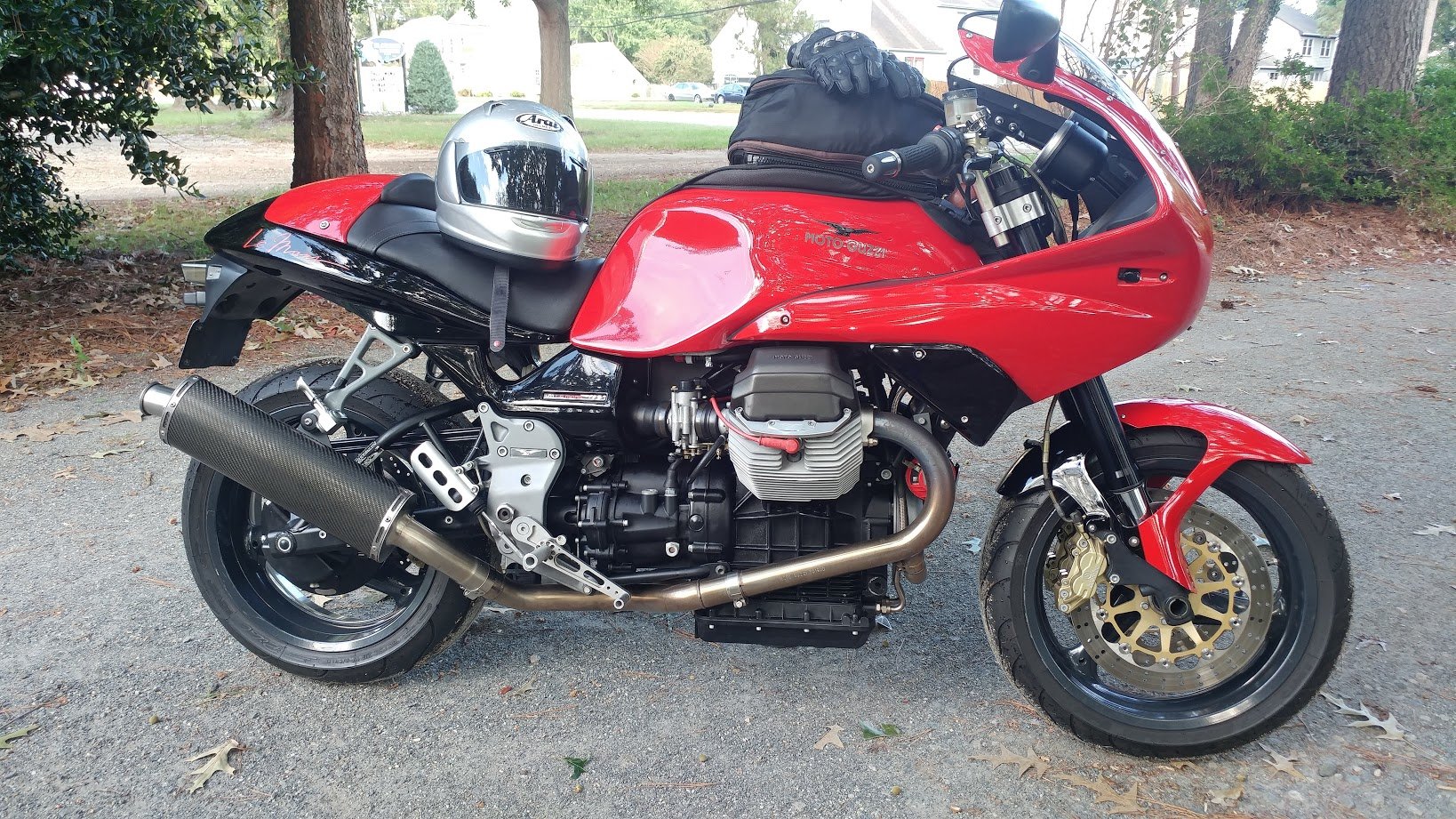 Content Count

107

Joined

Last visited

Days Won

5
Community Reputation
149
Excellent
About Tom in Virginia
Rank

Guzzisti


Birthday

10/07/1957
Previous Fields
My bikes

2003 MG V11 LeMans 2002 MG V11 LeMans 2016 MG Norge 1973 MG 850 Eldorado

Location
Profile Information
Interests

Primarily riding motorcycles, but also off road E-biking and 2 stroke enduro riding
I like that edged tray and support stand setup docc, just what I need to keep from loosing all those "roll away" parts.

Ahh, southern Hemisphere summer at its finest. (Or is it fall there?) Very nice! Calling for chance of snow flurries tomorrow morning here in SE Virginia.

Thanks docc! Somehow I have managed to forget my skills in posting photos. I had been successful before, but apparently not any longer. Ahh, old age just keeps getting better!

https://ibb.co/Qc1Z13k https://ibb.co/X7QnMQK Got out on the 02 LeMans for a short meetup with a few friends. Turned over the odo to 3300 miles. Such a sweet stock ride!

I have tried to place 3 separate orders with Harpers for items related to the Lemans and 73 Eldo. All orders were ignored. I even called him twice for the seat pan which he said he had to go get from his seat builder. Never followed thru on that commitment either. I simply don't give them business anymore.

Here's a source for magnetic mounting of a tank bag. I have not contacted Moto Machines to see if they have installed on any V11 LeMans models since I used the SW Motec ring. This company also carried racks for Hepco/Becker side and top bags as well. https://www.motomachines.com/hepco-becker-lock-it-tank-ring-6-bolt-pattern-select-aprilia-moto-guzzi-triumph-cagiva-benelli-kawasaki-mz-bmw

Now that is simply art there Lucky Phil!

https://www.stein-dinse.biz/ I've had good luck with these guys on many different MG models.

I'd be interested in the Norge bag liners if not already sold. What's your price?

Not much better here mate, with exception of yesterday. Rain and temps broke for a nice ride, but the outlook here is rain, wind and cold, just like the UK. (I like that saying ... "Just pants!")

You know docc, based on frequent usage of the high/low beam "flicker switch" to warn cage drivers of travel path (and preclude left hand turns in front of me) it's very possible that the headlight bulb connector could be suspect. A burned fuse has occurred several times during underway travels where loss of tach, lights, etc. have occurred. My only reluctance is in breaking into a virgin motorcycle (fairing, etc., etc., etc. to get to the bulb) but since it's a V11 the time is coming (i.e., this winter) and cannot be put off any longer. Thanks for the tip.

Will do this over winter. Fairly easy to check. Thanks docc! Kiwi-Roy: "I have helped dozens of owners with Startus Interuptus, some other models suffer worse e.g. the CARC models that the wire from the relay to the solenoid is really tiny, it would be ok if the current was only ~10 Amps but its a real choke point for 40 Amps, my 07 Griso operated 3 x as fast just by increasing the wire to a No 18. Of course on the later 8 Valve bikes the wiring is even worse, they choked the current through the switch again." Thanks Roy, I will have to look at this condition on my 2016 Norge.

Have same starting issue on 2002 LM, like new condition with 3000 miles now. This bike consistently blows fuse #5, thereby loosing lights, tach, etc. Surely a factory "installed" problem. lol. However, on the 2003 LM never have had any problems in 25K miles. Starts every time and never has burned any fuses.

LeMans has been delisted on MGNOC. Not sure if sold.