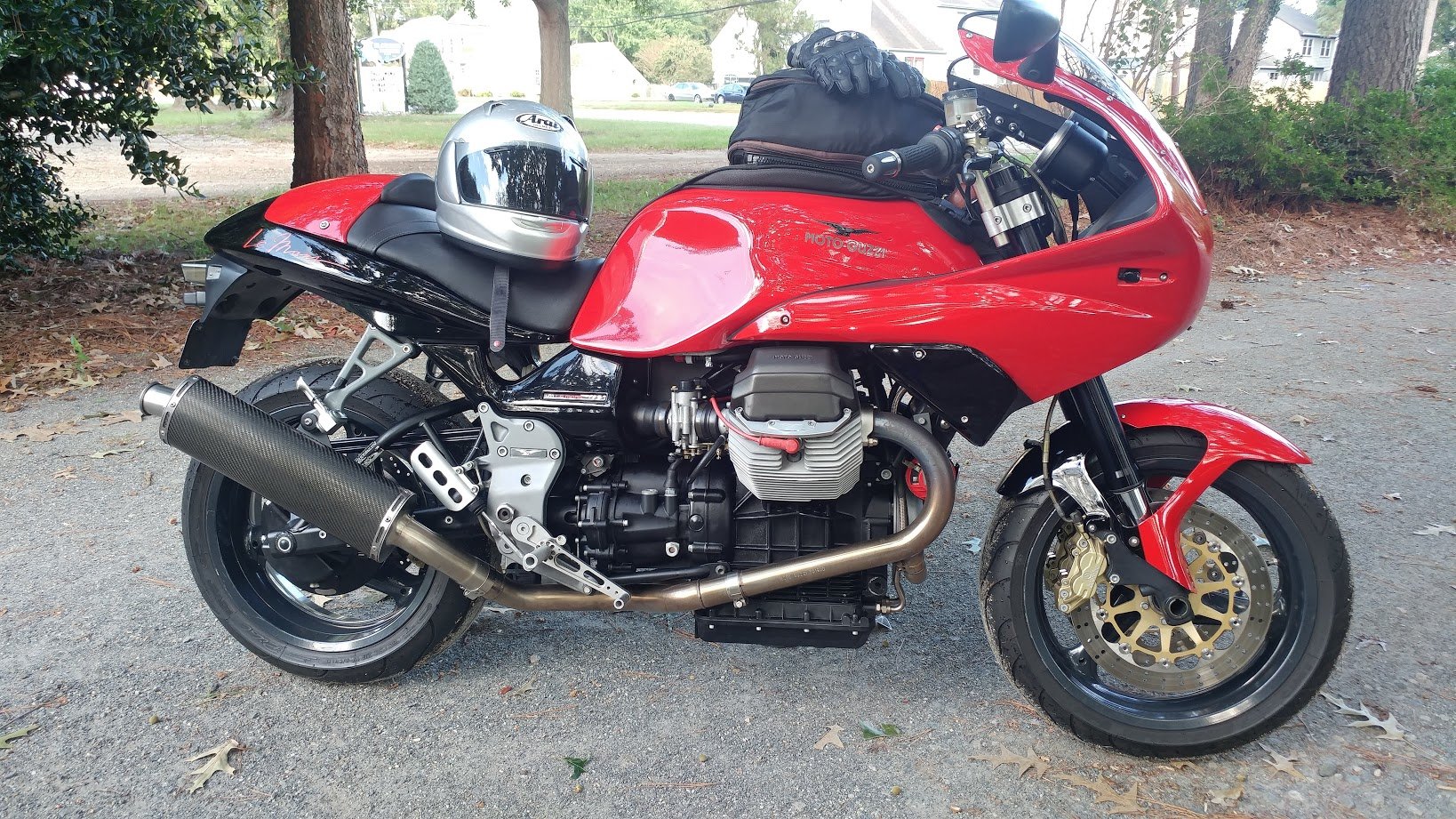 Content Count

99

Joined

Last visited

Days Won

5
Community Reputation
138
Excellent
About Tom in Virginia
Rank

Guzzisti


Birthday

10/07/1957
Previous Fields
My bikes

2003 MG V11 LeMans 2002 MG V11 LeMans 2016 MG Norge 1973 MG 850 Eldorado

Location
Profile Information
Interests

Primarily riding motorcycles, but also off road E-biking and 2 stroke enduro riding
https://www.stein-dinse.biz/ I've had good luck with these guys on many different MG models.

I'd be interested in the Norge bag liners if not already sold. What's your price?

Not much better here mate, with exception of yesterday. Rain and temps broke for a nice ride, but the outlook here is rain, wind and cold, just like the UK. (I like that saying ... "Just pants!")

You know docc, based on frequent usage of the high/low beam "flicker switch" to warn cage drivers of travel path (and preclude left hand turns in front of me) it's very possible that the headlight bulb connector could be suspect. A burned fuse has occurred several times during underway travels where loss of tach, lights, etc. have occurred. My only reluctance is in breaking into a virgin motorcycle (fairing, etc., etc., etc. to get to the bulb) but since it's a V11 the time is coming (i.e., this winter) and cannot be put off any longer. Thanks for the tip.

Will do this over winter. Fairly easy to check. Thanks docc! Kiwi-Roy: "I have helped dozens of owners with Startus Interuptus, some other models suffer worse e.g. the CARC models that the wire from the relay to the solenoid is really tiny, it would be ok if the current was only ~10 Amps but its a real choke point for 40 Amps, my 07 Griso operated 3 x as fast just by increasing the wire to a No 18. Of course on the later 8 Valve bikes the wiring is even worse, they choked the current through the switch again." Thanks Roy, I will have to look at this condition on my 2016 Norge.

Have same starting issue on 2002 LM, like new condition with 3000 miles now. This bike consistently blows fuse #5, thereby loosing lights, tach, etc. Surely a factory "installed" problem. lol. However, on the 2003 LM never have had any problems in 25K miles. Starts every time and never has burned any fuses.

LeMans has been delisted on MGNOC. Not sure if sold.

For those that might be interested in an older model LeMans: 1978 850 Le Mans Description *: Black and red. Garage kept . Stock. 8900 miles. one owner. new battery, plugs, fuel filter. Photo:: Asking Price: $9500.00 Name*: jennifer johnson City / State*: vienna (VA) Phone Number*: 17039382112

Good point PJPRO. For both of my MG LeMans, it was apparent on purchase that the previous owners ran too low tire pressures. On the front tire it led to (severe) cupping of the tread outside the center running bead of the tire. On test rides, this condition in turn aggravated handlebar/mirror vibration so much you would see double vision in the mirrors, making them almost useless. The 02 only had 2450 miles upon purchase but the front tire was noticeably cupped considering the mileage.

I have had the '02 only about a month now, have ridden it twice. It has very little miles on it and in new condition, but that doesn't help 18 years worth of new oxidation/corrosion on electrical connections for sure. First timeI rode it I think the battery was a bit low and had couple of issues. Changed out all the relays to OMRONs, no issues after that. 2nd time I rode it about 100 miles, no issues at all. Went to move it the back garage to the driveway a few days ago and when I pressed the starter button, started fine. About an hour later I am ready to go for a ride and go to start it

Kiwi Roy, from your V11 Sport schematic ... "Refer to Test Point Layout drawing for additional troubleshooting info" Is there another drawing you refer to here, or would it be the schematic presented here? Having intermittent starting issue with an almost "new" 2600 miles 2002 LeMans and would like to troubleshoot using this schematic. Assume it is also applicable to 2002 LM? Thanks much for the easily readable/understandable drawing! Tom in VA

Photographers posted along the "Dragon's Tail" route did a great job of catching all the bikes as they went by. This is the first picture in over 50 years of riding of me actually underway on one of my beloved Moto Guzzi's. Can't wait until next years Spine Raid.

Got out for an extended ride on the "new" to me "new" '02 LM. Beautiful weather finally has arrived. Tipped the ODO over to 2650 miles. She's tight and runs like a good sewing machine.

That was halfway (300 of 600 miles ) to Spine Raid. Have a camper in the mountains on a creek that I use as my getaway pad to sleep and ride from since my "home" is in the flat lands of Eastern VA. I was just burning up some tree limbs after riding dirt bike THEN drinking a few cold ones. One thing led to another and the few cold ones lit the idea of "why not a fire?"