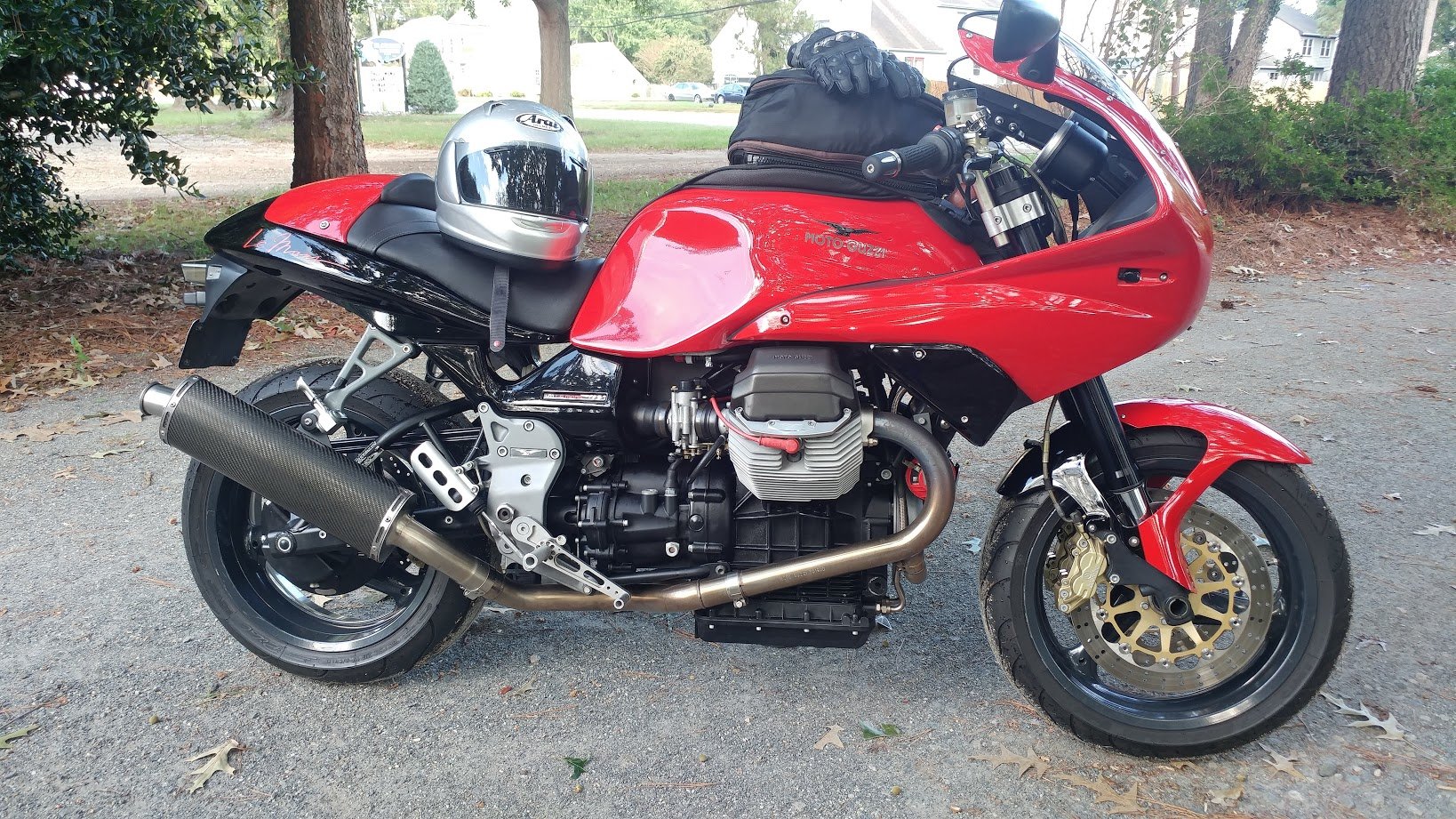 Posts

123

Joined

Last visited

Days Won

5
Profiles
Forums
Calendar
Gallery
Member Map
Everything posted by Tom in Virginia
Here's a link to my photos. Rode by myself, ate by myself, so not many of the fella's rides but a few of the Tech Session discussions. https://photos.app.goo.gl/GANxnBUhZKdSAd4C9

I left early this am, didn't get a chance to say goodbye to all you fellas. Sorry about that, I didn't want to interrupt the Sat nite Tech session last night and it was too early this am (0630 hrs) to knock on everyone's door. Had a great time, did some really fun, fast riding and will be one of my special memories when I'm too old to ride. Also learned a lot from all. Good times, already looking forward to a go next year. Everyone travel safe!

So what's was Doc Martin's prognosis? (May be applicable to my '16 Norge as well, always worth a look ). Looking forward to meeting you Bill, as I still haven't decoded your VA proximity. Sounds like you have all the ingredients covered for a great weekend. Wish my wife still rode with me!

Not to change the subject, just looking at weather forecast , it's looking great: Sunny, with a high near 82. Thursday Night Clear, with a low around 59. Friday Sunny, with a high near 84. Friday Night Clear, with a low around 59. Saturday Sunny, with a high near 86. Saturday Night Mostly clear, with a low around 62. Sunday Sunny, with a high near 88.

Thanks Lucky Phil. Really appreciate your quick response.

'02 V11 LeMans, all original, no mods. Bone stock collector bike with 2400 miles when I purchased last summer. Question: I noticed on the right side of fuel tank an open ended tube. Not sure what is going on here. The '03 LeMans has entirely different fuel delivery setup. Should I vacuum cap this open ended tube or is it a vent to atmosphere?? Thanks in advance.

Oh if only all V11 owners knew how much conversation (and ingenuity become reality) those springs have generated.

Nice old SP there too! (My buddy has an SP, bought it new, has clocked 203K miles on it, never been torn down and runs like a top).

I like that edged tray and support stand setup docc, just what I need to keep from loosing all those "roll away" parts.

Ahh, southern Hemisphere summer at its finest. (Or is it fall there?) Very nice! Calling for chance of snow flurries tomorrow morning here in SE Virginia.

Thanks docc! Somehow I have managed to forget my skills in posting photos. I had been successful before, but apparently not any longer. Ahh, old age just keeps getting better!

https://ibb.co/Qc1Z13k https://ibb.co/X7QnMQK Got out on the 02 LeMans for a short meetup with a few friends. Turned over the odo to 3300 miles. Such a sweet stock ride!

I have tried to place 3 separate orders with Harpers for items related to the Lemans and 73 Eldo. All orders were ignored. I even called him twice for the seat pan which he said he had to go get from his seat builder. Never followed thru on that commitment either. I simply don't give them business anymore.

Here's a source for magnetic mounting of a tank bag. I have not contacted Moto Machines to see if they have installed on any V11 LeMans models since I used the SW Motec ring. This company also carried racks for Hepco/Becker side and top bags as well. https://www.motomachines.com/hepco-becker-lock-it-tank-ring-6-bolt-pattern-select-aprilia-moto-guzzi-triumph-cagiva-benelli-kawasaki-mz-bmw

Now that is simply art there Lucky Phil!

https://www.stein-dinse.biz/ I've had good luck with these guys on many different MG models.

I'd be interested in the Norge bag liners if not already sold. What's your price?