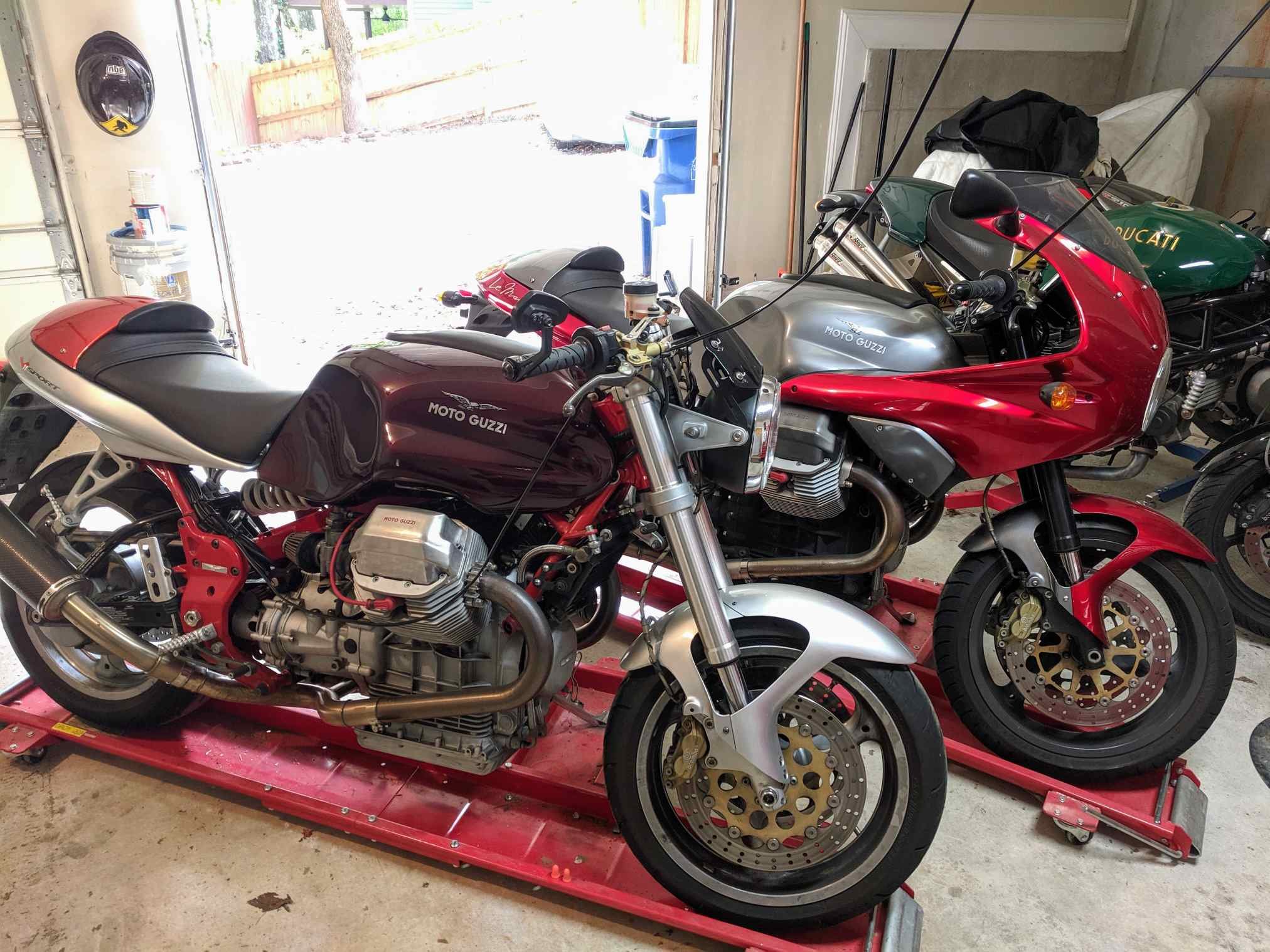 Content Count

62

Joined

Last visited

Days Won

1
Community Reputation
31
Excellent
Previous Fields
My bikes

'02 v11 Le Mans, Triumph ('11 657 Daytona, '09 Tiger 1050abs), '99 Suzuki intruder 1400 custom rat bob, '64 Vespa VBL

Location
Dude got my pair. TOP NOTCH material and finish. I'm very impressed. --Ian

Just saw this bike as I bought a rear rack. Super clean red frame. It's a great deal! If I didn't have a red frame sport and black LeMans I'd be all over it.

I'm in for two PMing you now.

Ok guys got a lead on some ok Jackal wheels. Frankly I just want spoke wheels on my sport. Yeah performance won't be as good but I'm rocking the retro vibe. So without staging the internet for specs anyone know for sure if these are a bolt up? If not anyone got an idea of how off they are? And as an aside what a beautiful spring to be stuck inside on.... I've gotta do something if I'm not riding..

I'm on board for two as well.

Add a 60-100 ohm resistor inline to both circuits after the switch or one in the feed from battery before the switch. You just need enough load to run the old bimetallic relay.. Back in the day RadioShack would have you covered. Heres an Amazon link https://www.amazon.com/dp/B00DCULNXS/ref=cm_sw_r_em_apa_i_3v4xEbCCFDPYS

2

Yep symmetric when reflected accross one axis, but not superimposible . So yes heads or in this case foot pegs. Chirality of molecules was first found to be important with thalidamide. Really terrible story but guess who used to be a pharaemaseudical chemist? Yeah hardest job I've every had for the least pay.

It's the clutch/shifter side, left foot when on the bike. And no the pegs are asymmetric and chiral.

OK guys after 2.5 years putting straight I had a fool turn in on my at a gas station last Sunday.... ugh Luckily this was at like 2mph and I'm basically OK. The bad is that I get to buy a brake lever and some new bar end mirrors.... and I need a left foot peg. For the life of me I cant find a place with any in stock. Anyone know of a supply? This is the peg for the shifter foot. thanks. . .

Just recreated these and super good fit. I did something a little different here. I removed as much of the inner collar from the K&N and then secured with springs. Four pin holes and the springs clamp the filter down tight. https://photos.app.goo.gl/FqJCH2AbzSZ43eZLA Just got out for a quick ride up and down I20. Wow this thing pulls to rec limiter. Really nice and much smoother than pods fitted directly on the throttle bodies. The left side is tight but I'm VERY PLEASED. Thanks for putting this info up guys.

I've got a set of chrome or aluminum or satin black cans. Yeah I've gone through a few exhausts. Would swap with you and throw in a new mistral crossover. That would be everything you'd need. Let me know if you are interested I'll send pix of the options. I've never had the quat d but like the idea.

Ok guys how do I upload decent pix to this thread? Alternate option is PM me your Gmail and I'll send pix. Basically I have one silver thick rail and one mat grey later tail she'll I could part with. https://photos.app.goo.gl/N11XzwvY7YkHYfM56

Didn't get PM, or don't know where to look. Yeah will take pix and forward this afternoon.