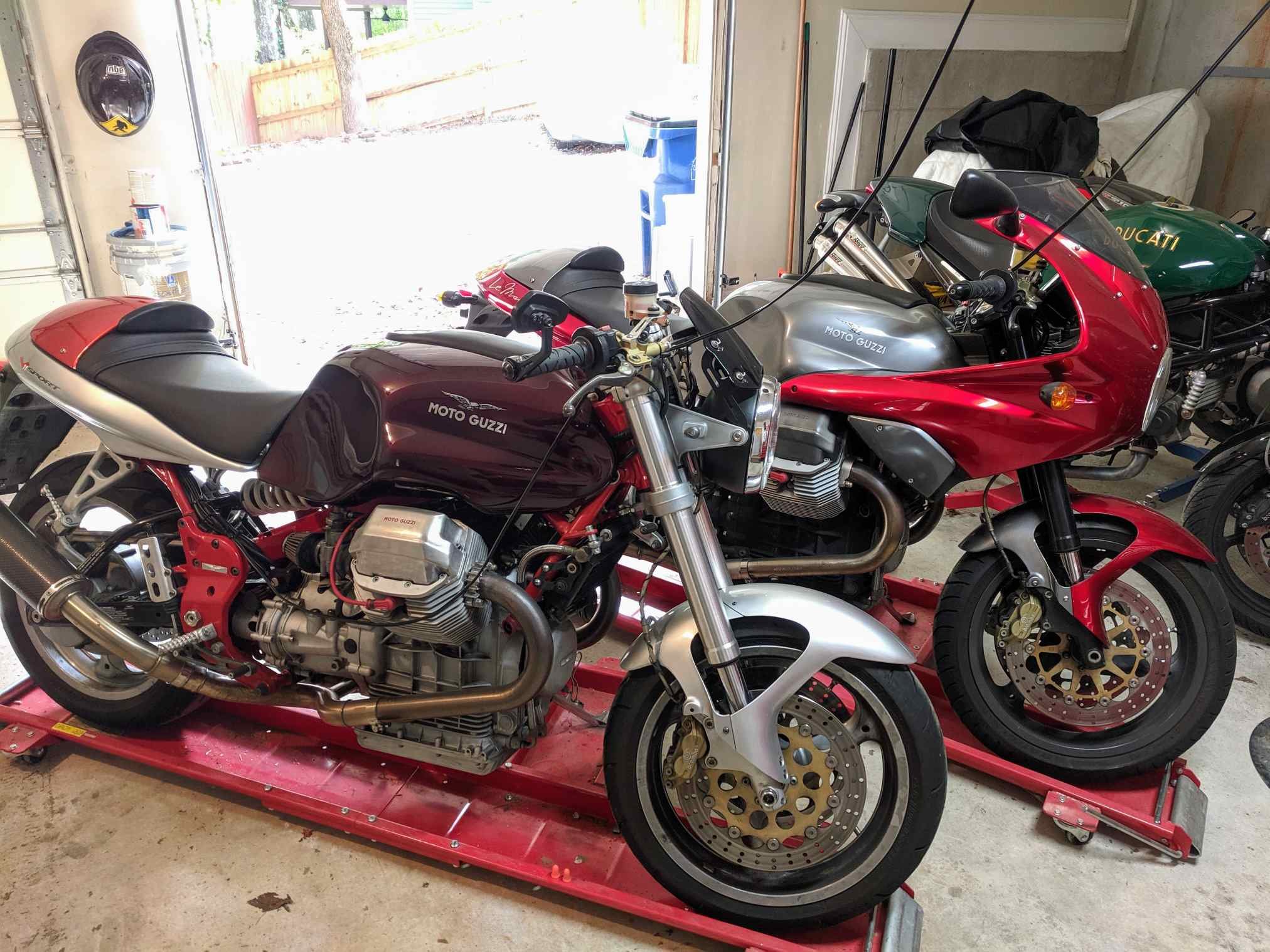 Posts

66

Joined

Last visited

Days Won

1
Previous Fields
My bikes

'02 v11 Le Mans, Triumph ('11 657 Daytona, '09 Tiger 1050abs), '99 Suzuki intruder 1400 custom rat bob, '64 Vespa VBL

Location
griswoia's Achievements

Guzzisti (2/5)
1
Community Answers
Really.. can't even go for the obvious cx500??? Neg 1 for lack of effort Meh if the bike is a non runner putting it back on the road in any condition is a win. I guess asking this forum is a non wining strategy but few of these are rolling art. There is a reason the E-Type or 911 or Healy is collectible and an MGB, alpha sud or TR7 isn't. Notice I didn't ask about classic Le Mans right??? Most round cyl Guzzis are workaday aquired taste at best.

I've always wanted a round fin big bore Guzzi. I've got two v11's and have ridden coast to coast on my 2002 lemans twice now. So I get their quirks and the solidity of the tech. So I'm going to start a GT/cafe project this coming year and want to know what round face n make the best jump off point? Obviously I'm looking for something that accelerates and shift like it was a bike and not a tractor. I rode an old eldorado once and whole charming I can't really see how you could hustle that platform. Is this too much to ask of the round fins? I look at all the old BMW flying bricks and r/75s and know they are really just trucks when you are on them. Thoughts? Inspirations? Critiques? I'm open to it all. thanks and happy holidays all. Ian Also I know the older lemans look great but are they the only path (hate to chop one up)???

Seriously Scurra's are in this range and MUCH BETTER BIKES for $900 less. . . . https://www.ebay.com/itm/2002-Moto-Guzzi-V11-SCURA-SPORT/124488353234?hash=item1cfc1585d2:g:-ZEAAOSwjF9fUleD

seems pricey and left outside https://atlanta.craigslist.org/nat/mcy/d/jacksonville-2001-moto-guzzi-rosso/7247320403.html

Dude got my pair. TOP NOTCH material and finish. I'm very impressed. --Ian

Just saw this bike as I bought a rear rack. Super clean red frame. It's a great deal! If I didn't have a red frame sport and black LeMans I'd be all over it.

I'm in for two PMing you now.

Ok guys got a lead on some ok Jackal wheels. Frankly I just want spoke wheels on my sport. Yeah performance won't be as good but I'm rocking the retro vibe. So without staging the internet for specs anyone know for sure if these are a bolt up? If not anyone got an idea of how off they are? And as an aside what a beautiful spring to be stuck inside on.... I've gotta do something if I'm not riding..

I'm on board for two as well.

Add a 60-100 ohm resistor inline to both circuits after the switch or one in the feed from battery before the switch. You just need enough load to run the old bimetallic relay.. Back in the day RadioShack would have you covered. Heres an Amazon link https://www.amazon.com/dp/B00DCULNXS/ref=cm_sw_r_em_apa_i_3v4xEbCCFDPYS

2

Yep symmetric when reflected accross one axis, but not superimposible . So yes heads or in this case foot pegs. Chirality of molecules was first found to be important with thalidamide. Really terrible story but guess who used to be a pharaemaseudical chemist? Yeah hardest job I've every had for the least pay.

It's the clutch/shifter side, left foot when on the bike. And no the pegs are asymmetric and chiral.

OK guys after 2.5 years putting straight I had a fool turn in on my at a gas station last Sunday.... ugh Luckily this was at like 2mph and I'm basically OK. The bad is that I get to buy a brake lever and some new bar end mirrors.... and I need a left foot peg. For the life of me I cant find a place with any in stock. Anyone know of a supply? This is the peg for the shifter foot. thanks. . .