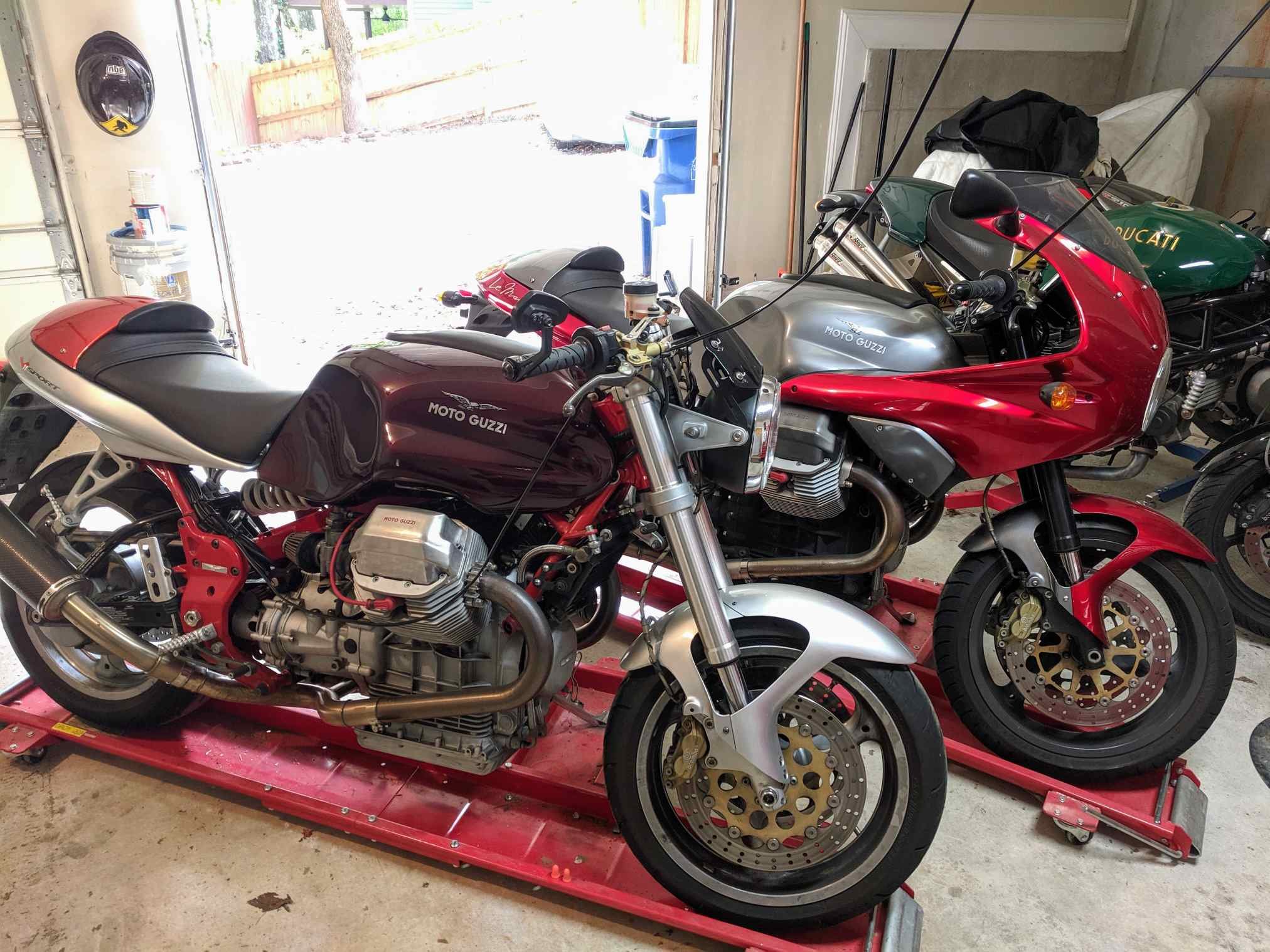 Content Count

34

Joined

Last visited

Days Won

1
Community Reputation
13
Good
Previous Fields
My bikes

'02 v11 Le Mans, Triumph ('11 657 Daytona, '09 Tiger 1050abs), '99 Suzuki intruder 1400 custom rat bob, '64 Vespa VBL

Location
I ended up doing exactly that. Had my black frame 02 Le Mans for a few years and love her. Found a 2000 Sport red frame that needed rehab and have spent a year or two slowly doing what ever I want to it. Put in a motoscope gauge, paired down the wiring loom, playing with colors... all fun. The major surprise was how different the long and short, black and red, frames are. Do it. Worst thing that happens is you start getting the itch for just one more.

I'm sure this has been covered but don't know what the most recent/up to date options are. Basically I'm 230 and my 2000 sport's front end is a bit overwhelmed. Yeah I know there are olhins but what about new springs or changing the oil? Opinions and links are all appreciated.

Sent PM txt me I'm into this.

Yeah that's the bike that has me thinking. I actually love the outside of rim spoke pattern. Ok thanks for the info

Anyone have experience fitting 1100 California wire wheels on a v11 sport? Love to swap off the mags but looks like front is an 18" (stock sport is 17"). Thoughts? Opinions? Experiences y'all want to share? Oh and BTW this bike has a power commander... So maybe that would be important to the discussion....

UPDATE ---. Issue reappeared. Pc3 was not it. Swapped ECU from LeMans and that behaved the same. Sport ECU runs fine on LeMans. Cleaned contacts. Went crazy..... Noticed that PC would do light dance of reboot whenever it coughed. Plugged in guzzidiag and yep ECU is flickering durring cough.... Noticed neutral night would VERY BRIEFLY flicker during cought (hell everything did but did it first??????) Checked and NEUTRAL SWITCH CONTACT WAS OFF BUT RUBBER BOOT WAS HOLDING IT AGAINST CONTACT!!!!! Took off side stand started and revved normally.... FML! Cleaned contacts and SEATED NEUTRAL switch wire. All is well. So lesson learned is check ALL contacts not just fuses and relays. I've just completed a clean and reseat of every sensor and ground on the bike. Again guys thanks for the attention earlier

If you'll remember I started this thread thinking this was a fueling (a la pump or injector) issue. The bike has had a PC forever, yep forgot to mention it. I've gotta say it's a dissapointing response that all varriations from stock need be enumerated before an issue can be discussed. Sweet baby Jesus these bikes are all 20ish years old. They must have a million modifications by now. Yep I've got pods and hey guess what a Motoscope Pro dash. Either of those might just be contributors in an alternate reality. This thread has given me tons of info I'll carry forward keeping these bikes on the road. All of the discussion is archived and who knows how many future problems will be solved after reading this thread. So guys thanks for the attention. It gave me a good push to solve this before winter teardown season. Here is my input for future readers. The PC rolls in at 1500rpm. So if you do fine and then can't roll on disconnect and see if the PC is at issue. Easy test that.

reconnected PC3USB and runs fine...... so bad connection. got this as the PC3 kept flickering as it passed over 1500rpm. thanks for the help folks.

unhooked powercomander 3 usb and IT WORKS! GDIA!!! OK Open pipes, pods, crossover.... what map should I run?

All connections around the throttle bodies look good. Checked the coils for corrosion at connections, nope. Plugs are <2Kmi and tan. Going to read the advance on guzzidiag as this should be calculated off crank angle sensor. If I have doubts I might swap with my running bike. All else checks out I am really thinking this is fuel pressure...... So that would be off with the tank.

OK hooked the bike up to guzzidaig and the TPS is reporting angle just fine. So now how do I check the crank angle sensor?